I have so many things going on today. First off, Thais at
House 09
who is redoing my blog, sent me some sample headers and I am in love. Hopefully, the changes will all be done and I can show you all my new blog soon! I can't wait.
Sara at
Sweet November
is offering free advertising on her blog until she reaches 300 followers. Stop on over there and take advantage of this sweet offer.
I think I have to play the Lottery this weekend. I've won a couple giveaways recently and I am so excited!
From the Right Bank
was offering the most amazing giveaways in December. I was the SUPER lucky winner of the stacking princess rings by Amery Carriere from
My-Sparrow.
They are just adorable and I'm loving the whole princess thing! I will post a picture as soon as they come in.

I also won a roll of Scotchblue Painters Tape from
Finding Fabulous.
I always have projects in the works and this will be just perfect.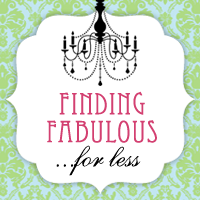 Thank you so much for the amazing giveaways. I am feeling lucky today!