I've been wanting to try making a piece of art. I'm loving black and white stripes lately and hearts are my favorite. 
$1.00 for wood
$4.00 for black paint sample at Home Depot (I have a ton left over)
Total $5.00
I'm trying to figure out how and where to hang it. I'll keep you posted. What do you think? Have you tried painting?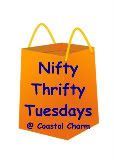 Please see pages on the left sidebar to see what parties I've joined.